Budget Drum Sets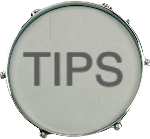 If your preference is to buy a package beginner drum set or you want to purchase a budget drum set that doesn't cost the earth then here are a few drum sets you might like to check out at some point.
I have picked these drum kits because they have a reputation of quality and durability at a fraction of the cost of a more popular brand name and with the advantage of buying everything in one go e.drum set, cymbals, stands etc.  Also you may want to first purchase a beginner drum set and then in a few years sell it on and upgrade.
CB have a reputation for making good quality entry level beginner drum sets.  The construction of these kits are excellent and will last you a long time provided you care for them.  Good quality drum shells provide for some great rock tones, just make sure they  are tuned well.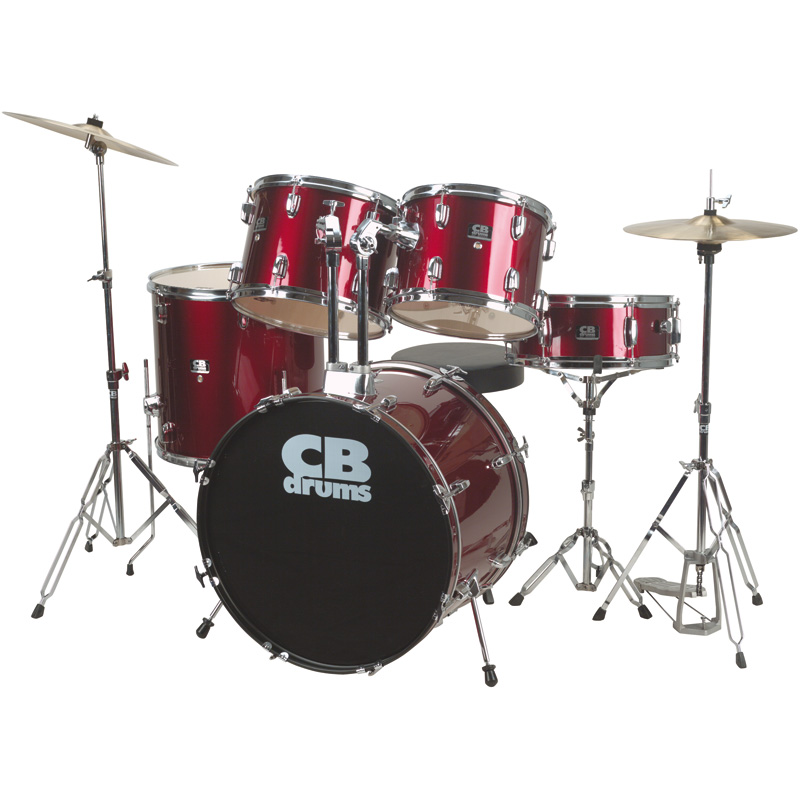 Percussion Plus make good quality drum sets that can be bought as a package which includes a five piece drum set complete with cymbals and double braced stands.  They have even started to supply their kits with remo drum heads which can only imrpove sound quality.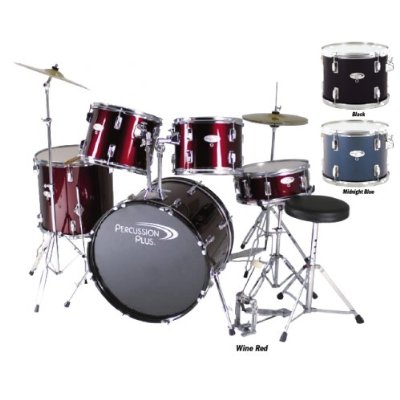 The ddrum D2 Drum Set is an outstanding instrument for the young or beginning player. The ddrum designed the D2 with incredibly high-quality components for a drum set in this price range.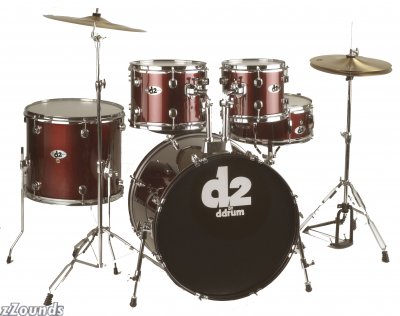 For the ultimate budget drum set this is a winner!!  This solid, new drum set features 9-ply basswood drums and double-braced drum stands (set also includes drum throne, drum sticks, and drum key – not shown). World Tour drum kits give you that right amount of power and quality normally not found in drum kits that are more expensive than this.
Includes cymbals, double braced stands, drum key and a free pair of sticks.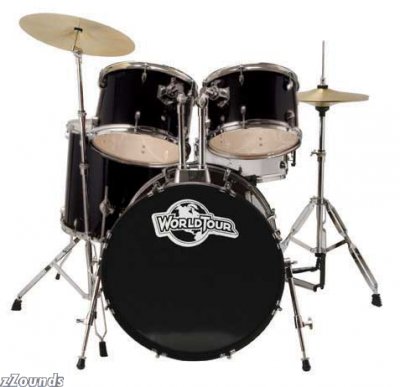 Points you want to consider when looking at cheap drum sets:
Most importantly get on the drum kit and see how it feels and plays.
Check the tone quality and finish as production line drum kits can sometime be prone to imperfections.
If possible go for a good quality drum skin.  This will without doubt improve the sound quality and tone of the drum set.
The compromise on price can lead to poor tone quality from the cymbals.  It might be worth upgrading to a dedicated starter cymbal pack (sold separately) which will give you just a smidgen of extra pleasure!
It is crucial that the snare works properly and sounds good too.  Check all moving parts work smoothly and that they feel secure and sturdy.
Most of the starter drum sets now come with double braced stands this is a better option that you should go for.  Your hardware will last longer.
Make sure the bass drum is smooth and moves freely without you having to put lots of effort in.  Drum pedals are soooooooo important because they can and will make or break your technique.  If you have a few extra pounds it might be worth investing in a pedal.  Premier do very good starter pedals that work very well and won't cost you a fortune
CARE FOR YOUR DRUM SET … It is important to care for any drum set but with starter and cheap drum sets particularly you must give them just a bit more love.  They will thank you and reward you by giving you many good years of drumming until you are ready to upgrade.